Game Animation: Combat Attacks
Level Up with Game Cinematics
Round 2...Fight!
See your game come alive before your eyes as you master essential video game combat attacks using two different characters!
In the Game Animation Combat Attacks course, you'll learn how to animate awesome character attack combos with your weapon of choice: hammer, sword, or two blades. You'll have the ability to create awesome fight sequences between two characters with epic attacks, blocks, hits, and reactions that you'll be able to control with your keyboard or controller in real gameplay.
There's nothing like seeing your animation instantly come to life! That's the beauty of game animation.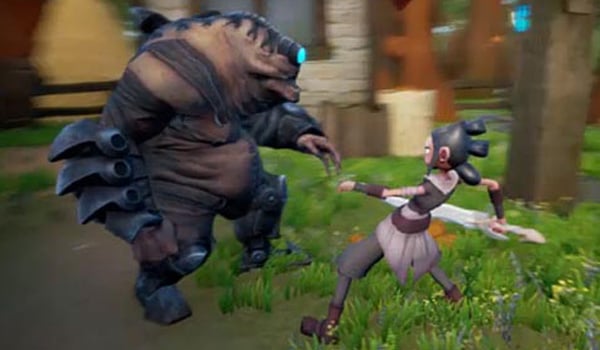 Sold Out? Sign Up for Our Waiting List
Sign up for our waiting list and we'll notify you when more seats are available or when the next registration opens.
1-on-1 Feedback from a Studio Pro
During this 6-week workshop, you'll have live Q&As with your mentor each week in addition to receiving a recorded training video from a professional game animator and an assignment designed to build your skills. Plus, your mentor will review and critique each of your assignments and provide you with a weekly video of his or her feedback so you can improve your work.
Make Your Game Character Come Alive
You'll gain access to professionally designed rigs like Riley, Stewart, and Taskmaster. After you finish the course you will have ongoing rig access so you can continue to work on your animation assignments.
What You'll Learn in Game Animation: Combat Attacks
Week 1
Attack Combo Introduction and Project Overview
You'll begin to plan a three combo attack in addition to setting up your machine and Unreal Engine 4.
Week 2
Combo Attacks in Depth and Maya to Unreal Workflow
Animate the first attack and hit reaction in the three combo attack and play test the animation in Unreal.
Week 3
Hit Reacts and Dealing with Game Limitations
You'll finish animating the first attack and begin the second attack as well as its corresponding hit reaction. See it sync up into Unreal.
Week 4
Animation Flow
You'll block out the third attack and hit reaction and analyze the control of the flow of the attacks and begin to refine the combo sequence.
Week 5
Workshopping our Shot for Flow
You'll continue to to analyze the flow with three attack combo sequence and polishing it to a final sequence.
Week 6
Games Demo Reel Tips
Feedback to see if your final sequence is demo reel ready and suggestions to help improve it.
Course Requirements for Game Animation: Combat Attacks
Course Details
LIVE Q&As |Weekly 1-Hour Q&As
LECTURES | 6 Pre-recorded Lectures
ASSIGNMENTS | 5 Animation Exercises
SOFTWARE | Our rigs and demonstrations use Autodesk Maya and Unreal Engine 4 (Free on Windows, MAC OS, Linux), but you are welcome to use any other 3D software or rigs that you choose.
IMPORTANT: The Unreal Engine 4 game engine requires an OpenGL 4.1 compatible graphics card. Make sure your computer meets the necessary hardware requirements to use the Unreal Engine 4 software.
HARDWARE | Meet Minimum Requirements
AGE | 18 Years or Older
LANGUAGE | Taught in English
Skills You Need Before You Start
Game Animation: Combat Attacks requires you to have a working knowledge of, and experience with, Autodesk Maya.
If you're unfamiliar with Maya you can take our Maya Workshop.
You'll also need a working knowledge of Body Mechanics, since our workshop builds on the skills needed for animating people and other bipeds. If you don't know anything about body mechanics you can take our Core Animation Courses which include a thorough grounding in body mechanics.
What You'll Learn
After taking our workshop, you'll have a thorough understanding of game animation including these crucial skills:
Professional game animation workflows, including Maya to Unreal Engine
Animating believable and dynamic combat sequences for use in-game
Creating dynamic relationships between your character and weapons for attacks with impact
Animating towards your chosen game type, so the animation supports the visual style of each game
If you're interested in Game Animation, we think you'll love these courses!